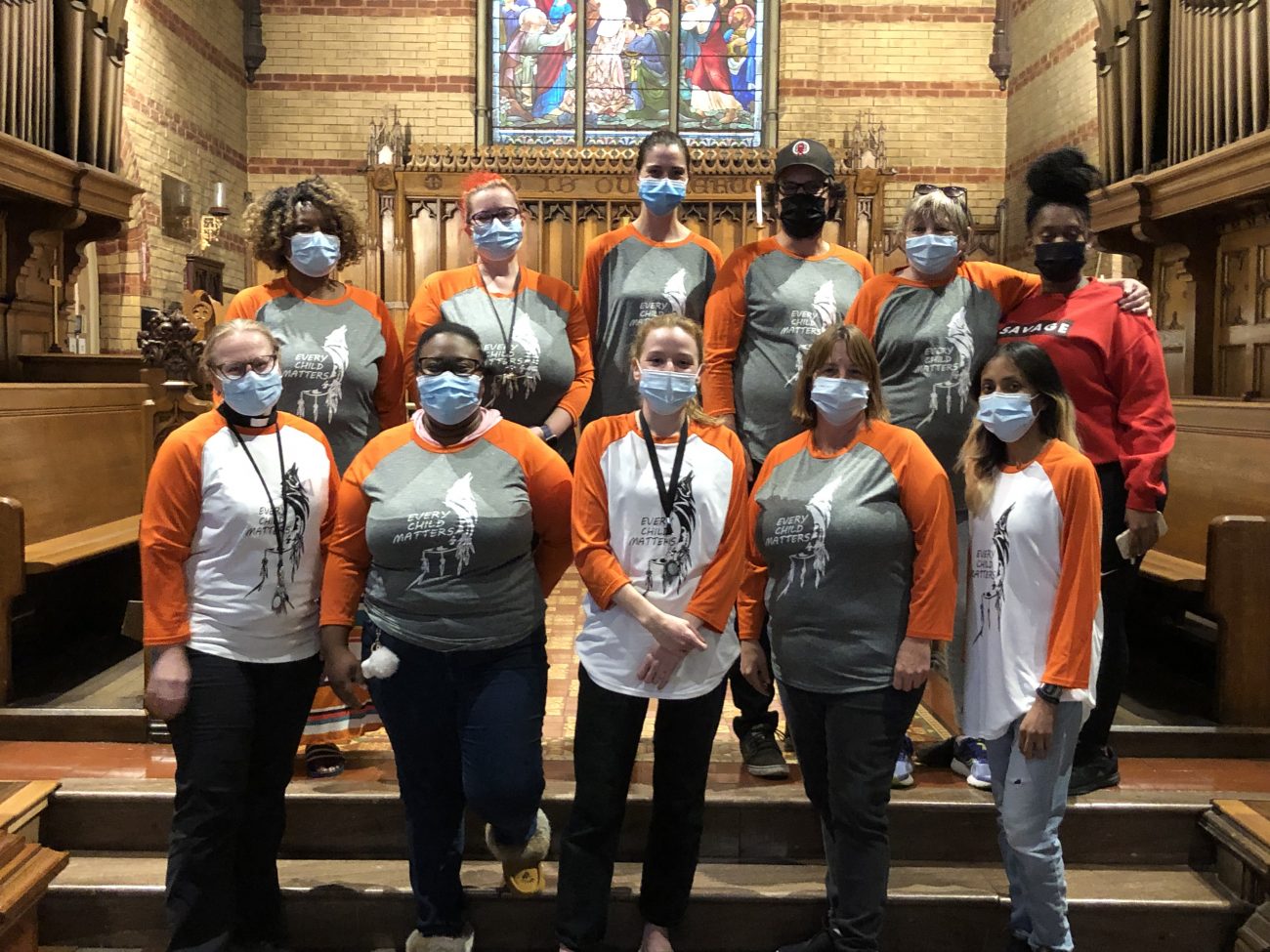 The Reverend Dr. Alison Falby – Priest-Director / Incumbent
Alison was thrilled to return to All Saints as the priest-in-charge in 2018, having worked and worshipped here as a Divinity student. She was previously the incumbent at St. Martin's, Bay Ridges, in Pickering, and a curate at St. Nicholas, Birch Cliff and Havergal College in Toronto. She was ordained priest in 2012, and graduated with her M.Div. from Trinity College, Toronto, in 2011. Before following her call to the priesthood, Alison was an Assistant Professor of History. She holds a D.Phil. from Oxford and a B.A. from McGill University. She is a lifelong learner, and has learned some of her most important faith lessons at All Saints.
The Reverend Sandra Seaborn – Honorary Assistant
Sandra currently works at Yonge Street Mission (YSM), where she provides strategic oversight to programs that motivate and equip street youth, families in crisis and adults living with low incomes to physical, emotional, spiritual and economic well being. She is an Anglican Priest, ordained in 2009 in New York City. Sandra moved back home to Toronto in 2015.
Marva Wilson – Office Administrator
Marva fell in love with non-profits when she volunteered as a payroll assistant at the Diocese of Toronto. Inspired by a tour of All Saints Church Community Centre, Marva quickly developed a deep passion for charitable work. This resolve stuck with her through her time at the diocese, leading her to apply for the Office Manager position when it became vacant. Over fifteen years later, Marva provides administrative support to the All Saints team. She is responsible for the day-to-day operations of All Saints. This experience has given her a deep appreciation for how charities seek to improve the quality of life for our community.
Sanda Kazazic – Drop-In Manager
Sanda has extensive experience working with vulnerable, marginalized and underhoused people, having previously worked at St. Stephen's Community House, Church of the Redeemer, and St. Michael's Hospital. She is passionate about equity, harm reduction, and restorative justice.
Arielle Prescod – Fundraising Manager
Arielle is a seasoned fundraising professional who is passionate about the arts, equity, and community well-being. She studied International Economics and Development at the University of Ottawa, where she obtained a Bachelor of Social Science.
In 2022, she was compelled to join the All Saint's Community Centre to support the critical drop-in and outreach programs offered to people in need of connection and practical help. She loves stewarding meaningful relationships with donors, and looks forward to building on the culture of belonging at the corner of Sherbourne and Dundas.
Sarah Ovens – Social Worker
Sarah Ovens has been working at All Saints since 2015. Born and raised in Toronto, she holds a Masters Degree in Social Work from the University of Toronto's Factor Inwentash Faculty of Social Work, with a specialization in health and mental health. Sarah is passionate about harm reduction and community organizing, and about the Dundas and Sherbourne Community. She was also a co-founder and coordinator of Ontario's first supervised consumption service, the unsanctioned Moss Park Overdose Prevention Site, from 2017-2018. Outside of work, Sarah enjoys cooking, eating, and spending time with her family.
Radhika Gupta – Registered Nurse
Radhika (Rad) joined the All Saints team in June 2021 after having worked in mental health, harm reduction, overdose prevention, and HIV/AIDS care. She aims to provide support in ways that respect people's free will and dignity. She enjoys watching her guinea pigs eat and is learning more about bicycles, knitting, and yoga.
Sharon Hinks – Housing Support Worker
Before coming to All Saints in 2018, Sharon worked as a Case Manager at Dixon Hall's Rooming House Project in Toronto and at Mission Services' Men's Shelter in Hamilton. She has also worked as a Program Assistant at Toronto's St. Felix Centre. Her life's work is to support low income, homeless, and marginalized individuals, and help them overcome challenges to achieve their goals.
Lashana Prince – Drop-In Worker
Lashana Prince studied at George Brown College taking the  Assaulted Women and Children program. During her studies she applied for a placement position at All Saints and was given the opportunity to work among the amazing staff. She then was hired as a relief support worker in September 2014. When she did her placement, she was really impressed with support system at All Saints and how passionate the staff was about providing a safe space for the marginalized individuals in the community. She was instantly inspired, and knew that All Saints was the right fit for her.
Alex Hernandez — Drop-in Worker
Alex is proud to help as a drop-In worker at All Saints. A Social Service Worker student, Food Security advocate, Green/Nature supporter, his heart will always be in the Downtown East.
Sachel Rowe – Drop-in Worker
Sachel is a community support worker at All Saints. She is an outgoing, friendly person who loves interacting with people. She has a passion for helping people in need, which is why she loves working at All Saints Church. She says, "You can be anywhere in life, at any level, and still end up in an unfortunate situation that leads you to seek help at a shelter or drop-in."
Shea Gerrie – Drop-In Worker
Shea first got involved as a volunteer at the women's drop-in when she was a sociology student. When she graduated from the University of Toronto, she joined the All Saints staff. She lives in the neighbourhood, and loves caring for the community at Dundas and Sherbourne.
Diana McNally – Harm Reduction Case Manager
Diana (she/they) (Dipl. Of Community Work, BFA, MA, MEd) joined All Saints in 2022. As someone with lived experience of social services and being unhoused, Diana's work focuses on human rights and equity issues for people who are experiencing homelessness, and especially those who face barriers and restrictions to service access. She is also an avid advocate, and is particularly involved in rights protections for residents of encampments. Diana is also an instructor in the Community Worker and the Social Service Worker programs at George Brown College, and has served on the steering committees and boards of Justice for Children and Youth and Health Providers Against Poverty. She is a fellow of Maytree Canada as well as the McNally Project for Paramedicine Research. She DJs at night and otherwise spends lots of time with her cats, Whiskey and Soda.
Erika War – Social Media Coordinator and Drop-in Worker
Erika War is a Toronto based artist, designer and creative. She graduated from college with a degree in music management but quickly discovered her passion for visual media and community. Her work spans such sectors as fashion, tech development, and music, with an emphasis on the intersections of sustainability and mental health. 
Laurie Gill – Church Musician
Laurie Gill has been around music from a very young age. She was raised listening to her parents' extensive music collection ranging from classical to gospel to the blues.
While she graduated from McGill University with a degree in Commerce, working as a musician has always been a passion of hers. Laurie has served as a music director in Montreal and Toronto and participated in some of the following festivals: Ottawa Blues Festival, Saskatoon Jazz Festival, Saint John Festival by the Sea, Quebec City Festival of Sacred Music, Drummondville World, and Folklore Festival. Laurie is incredibly excited about working with the All Saints family.
Kate Karpinski – Drop-In Worker
Jules Sapershteyn – Drop-In Worker
Jim Burgess – Church Maintenance Worker